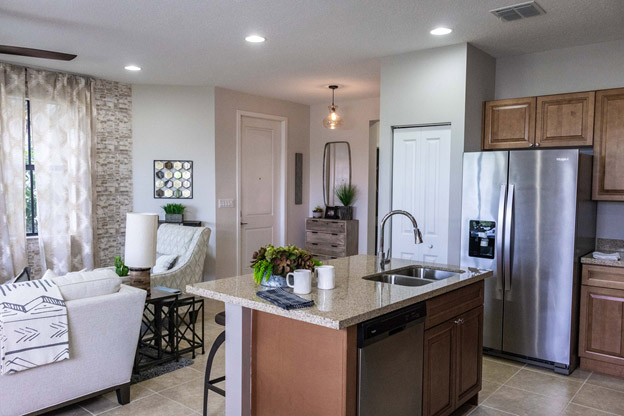 Commercial-grade countertops have a variety of applications. They can be used in a home kitchen or commercial spaces like restaurants, office kitchens, and more. Not only are they a durable option for these spaces, but a functional one as well. If they are being utilized in a commercial kitchen, they are necessary to maintain commercial kitchen design guidelines. Find out more about what to look for when purchasing commercial grade countertops, including guidelines and material types.
About Commercial Grade Kitchen Guidelines
When purchasing countertops for commercial use, you'll need to follow some general guidelines and codes. The Food Code set out by the U.S. Food & Drug Administration is often adopted by states and agencies. It supplies general best practices and is a good place to start when looking for commercial-grade countertop requirements.
The most likely requirements for commercial countertops are:
Durability
Cleanliness/Washability
Legal Obligation
A countertop's legal obligations depend on the state or local governing body. Before your design phase, be sure to contact local authorities for all legal guidelines. This will ensure that your countertops and kitchen design are always up to code.
Types of Commercial Grade Countertops
There are many types of commercial-grade countertops to choose from. These range in durability and cost, so be sure to choose the best option for your kitchen and budget.
Granite
A popular type for many commercial spaces, granite is a very durable and natural option. Granite is a more expensive stone since it requires regular resealing. Since each slab is unique, don't expect a cohesive look with this countertop type.
Quartz
Quartz countertops are very durable because of the mix of minerals, quartzite, and resin. This combination offers a sleek and uniform look that works well in many commercial spaces. Many choose quartz for its range of affordable price options and longevity. Some imperfections may be noticeable on the surface of the slab.
Solid Surface
A cost-effective option, the solid polymer can be transformed to replicate the look of natural stone countertops. This type of commercial countertop may experience chipping or other damage but can easily be repaired. The variety of colors and designs for this type make it a popular option for many small businesses.
Butcher Block
Large slabs of wood are used to create a large countertop space. This rustic look is also great for food preparation or even seating areas. This type of material needs sealing regularly, however, or it will suffer damage from stains. Although an affordable option at first, this countertop type will need maintenance later on.
Contact a Professional
If you are still unsure about which commercial grade countertops are right for your space, contact professional sources. You can review the FDA's Food Code, reach out to your local agencies, or contact a local countertop specialist. A local professional can also make sure that your countertop choices are up to commercial code. They can help advise you on which commercial countertops to choose based on your budget and needs.