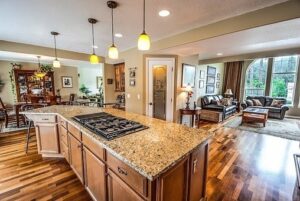 When choosing countertops for your kitchen is not something you should take lightly. Your countertops are an investment in your home and make or break your kitchen. There are various options to choose from and at our Countertops Denver store, we can provide help in this difficult task. Before getting started, you need to ask a few questions. These will help you to choose your countertops, and to know what you are looking for. You will also need to know the different styles that exist to choose from.
Ask Yourself
Do you cook meals in the kitchen?

Do you prep meals weekly?

Do you dislike cracks?

Natural stone or composite?

What is your budget?

Style of your home?
Types of Countertops
Marble
Marble countertops are extremely popular because of their natural beauty. You instantly see a bright and clean feel when it comes to this natural stone. Common colors are bright white marble, but marble countertops are also available in other colors. These include gray, brown, taupe, and even green. No two marble countertops will ever be the same. Despite this, it is not the smartest choice for budget. Marble is softer than other natural stones, so this means that you might scratch it. It is also porous, so you can easily stain it if you do not clean it up.
Quartz
If you have a large family or group of friends and you cook often at home, you may want to invest in something more durable. Quartz is built to last and typically isn't even made of 100 percent quartz. Instead, they are made of a composite stone engineered from natural quartz which is combined with a resin binder. The result is a non-porous and very hard surface.
Granite
Granite countertops are some of the most commonly recognized because they are made from natural stone with durability. Granite is available in various colors that contain flecks and variations. Another unique feature of granite is that it can be cut with different edges. They are also easy to maintain, but the only thing you need to consider is not using harsh cleaning materials, all you need is soap and water. Granite is heat resistant which means you can take dishes from the oven and place them on the surface which is very convenient for those who like to cook.
Concrete
Although somewhat of a new concept in modern kitchen design, concrete countertops have a very unique look. They are quite indestructible but take a while to dry, so you may need to vacate your home for this amount of time. Despite this, countertops can easily crack. On the alternative, they are also easy to repair. This is definitely a look that will last, but it is not certain it will remain on "trend" forever.